Camp Mohawk
Situated in White Plains, Camp Mohawk is one of the most well known day camps in Westchester. Offering various activities such as sports, climbing, games, outdoor skills, and hands-on nature experiences, Mohawk has it all. Parents have the option to send their kids from the 26th of June to the 8th of August for the full 8 week experience, or for 4 weeks either at the start or the end. In addition, any 6 weeks out of the 8 are also available. In regards to camp hours, there is a half day program from 9am - 12pm, a mini day program from 9am - 2:15pm, and a full day program from 9am - 3:40pm. Camp Mohawk is a great way to keep children up to the age of 14 busy with the outdoors during the summer!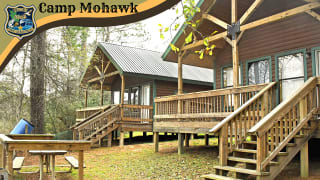 Future stars
Offering 15 sports, 9 specialty programs, and 2 academic programs, Future Stars welcomes kids of all ages and interests weekly from June 26 - August 18. With 11 locations on the East Coast, Future Stars is hard to miss, especially having SUNY Purchase as a location. Here, campers can develop skills and self confidence in athletics, art and education, with the option to swim in the afternoon. There is a morning session, and an afternoon session. If campers are signed up for the full day (9am - 4pm), they are provided lunch in SUNY Purchase's dining hall. Future Stars is a great way to keep children active during the summer with various activities and sports.
Breezemont Day Camp
Located on 18 acres of land in Armonk, Breezemont is a day camp that is built around 8 periods a day. Each camper participates in instructional swim, recreational swim, at least two land sports, and two specialties. Specialities include fine art, jewelry making, or an outdoor activity such as fishing, wilderness, or a nature activity. Campers are also provided a healthy lunch and a morning/afternoon snack. Aiming to provide kids an escape from technology, Breezemont welcomes kids up 8th grade from June 26th - August 18th with either a 4, 5, 6, 7, or 8 week option.
Harvey School Camp
The Harvey school, found in Katonah offers multiple day camps for various ages. This includes a basic day camp for grades 2 - 8, a sports camp, or arts camp for grades 5 - 8, a 1st grade camp, a 9th grade camp, a circus camp for ages 7 - 16, a robotics camp for grades 8 - 10, a coding camp for grades 6 - 9, and a volleyball and basketball clinic for all ages. Each program has a different number of hours and weekly rate. However, the Harvey School definitely has a wide variety of options to keep your children busy during the week.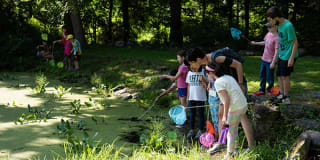 Challenge Day Camp
Challenge Camp at Iona University in New Rochelle is an awesome way for bright and curious children to spend their day during the summer. Campers have the opportunity to challenge themselves in STEM, arts, and sports during 2 different sessions. June 26th - July 21st, and July 24th - August 11th.

With over 40 years of experience, Challenge camp has assembled a camping staff that is superb in every way. Their goal is to ensure that campers will be engaged and learning this summer, and remain dedicated to providing children with meaningful opportunities to realize their intellectual and personal potential.
Rye Arts Center Camp
The Rye Arts Center offers a schedule of week-long morning, afternoon, and late afternoon classes each week from June 26 - August 25. You can fill your child's entire summer with creativity and fun, or simply fill the gaps. Depending on what course you select out of the many choices, the age range will vary, and so will the dates available to attend the camp. The Rye Art's Center Camp is definitely worthwhile to check out if your child is interested in music and art!
Camp Hillard
Found in Scarsdale, Camp Hillard is a very notable day camp that has opportunities for kids of all interests. Being in Scarsdale, it makes Hillard an easy ride for campers anywhere in the Metropolitan area. Today they serve families from Manhattan, Brooklyn, Riverdale, throughout Westchester, and Greenwich, CT. Over the years Camp Hillard has

developed a total program which is carefully scheduled so that campers have the full benefit of outstanding swimming and sports, balanced with high-quality creative and performing arts, specialty activities, as well as exciting special events. Open from age 3 - 13, from June 26th - August 18th, Hillard has it all if you're looking for a top notch day camp experience.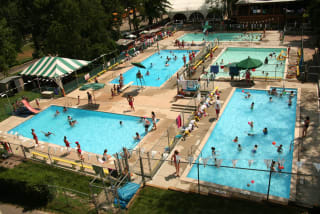 Music Conservatory of Westchester
If your child has an interest in Music, the MCW is definitely a way to keep your child occupied in a fun and engaging way. MCW summer programs are a great way for young musicians of all ages to explore their creativity, try fun new activities, and hone their music skills. Some programs include the Suzuki beginner special (4yrs-7yrs), Music and Arts (grades K-6), and the Concert Band program (grades 5-7). Each of these programs has different rates and times, so make sure to check out their website to look into specific programs more deeply.
Elmwood Day Camp
Elmwood day camp, in White Plains is one of the many great camps in Westchester that offers fun activities for kids of all interests up to 6th grade. Ranging from sports, to science, to performing arts, Elmwood has it all. Elmwood's intentionally small size is also a great advantage if your child is looking to create strong and close bonds with not only the other campers but with the counselors too. The facilities aren't too overwhelming, and small groups are ensured so the kids can stay connected. Campers may enroll for a 4, 5, 6, 7, or 8 week session, and the dates range from June 26th - August 17th.
iCAMP
iCAMP, located in Scarsdale, is a

camp program that has the familiar format and feel of summer camp but is designed to genuinely teach campers. Each day, campers rotate between workshops led by teachers who are specialists in their topics. Throughout the week campers build upon what they learn each day to build increasingly more sophisticated projects. Offered topics include coding, robotics, studio and graphic art, science, filmmaking, video game design, 3D printing and more. iCAMP runs from mid June to the end of August.